Jigging Up Giants on Lake George, NY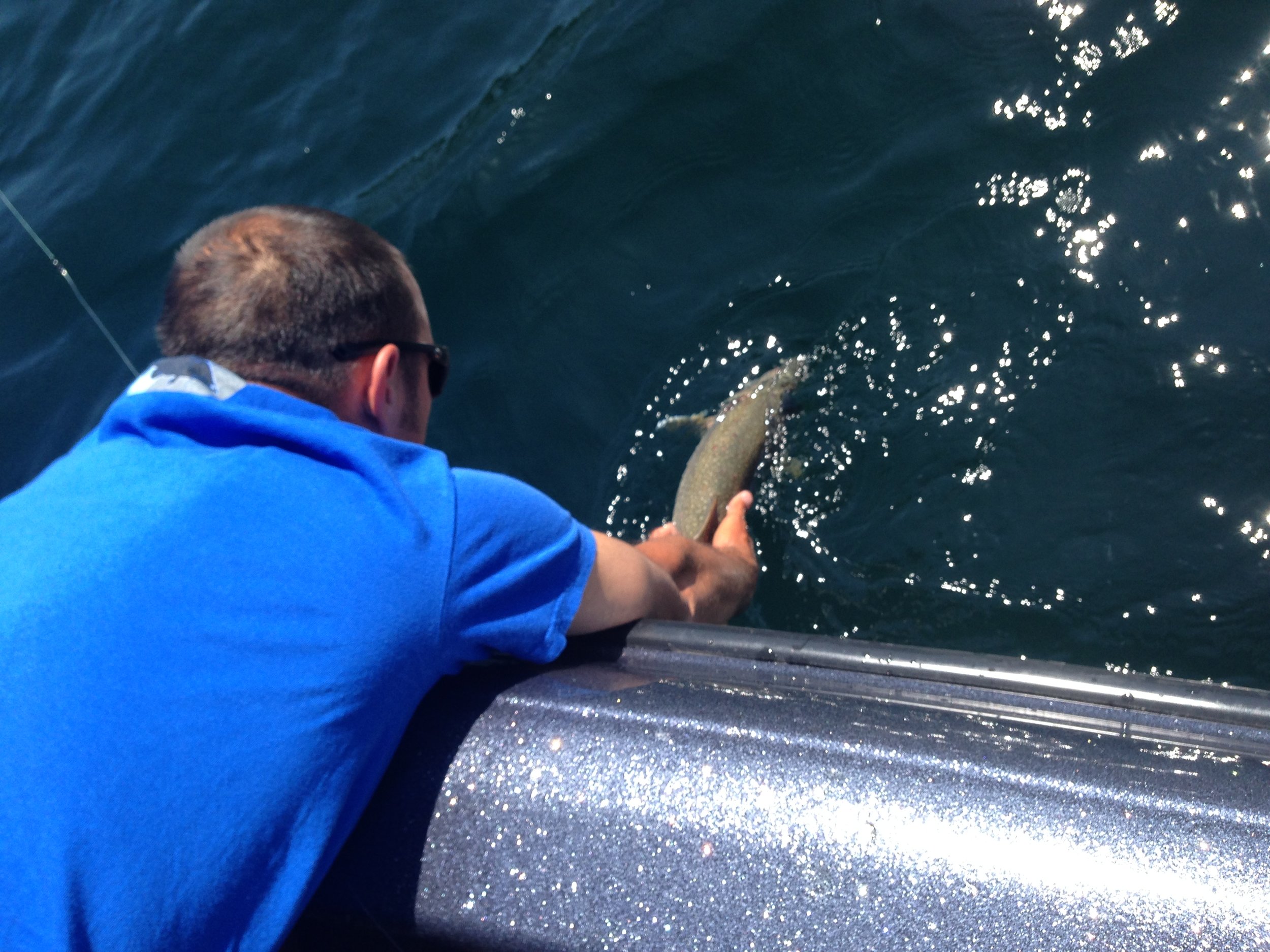 I absolutely hate trolling. I despise it (too strong of a reaction?). I know it's effective, I just don't like doing it. I am a jigging fool. Here's where I get weird with you...I can actually remember many of the jig bites that I get from year to year. Whether it's casting and snapping jigs for walleyes back in Michigan, vertical jigging a river for walleyes (like the Detroit River), or jigging spoons and plastics on Lake George for big 'ole Lakers, it's the thump, whack, twack, thud, shwack, tunk, bump, crush (or whatever word you use to describe a hit) that gets me every time.
We have been thinking a lot about Lakers this winter. Our desires to ice fish Lake George were thwarted by a warm winter. So we've been left to dream and plan. And this is what we've been thinking. We caught 25 fish last summer from about July 15 to the middle of August. We would Lake Trout fish to rest our smallie spots for guide trips or if we had an hour before dinner we go hit a spot. We want to build on that momentum and experience and so this is what we have been thinking about adding to our repertoire this season:
1. Try tubes. Gord Pyzer and many other Lake Trout experts tout the tube as their go to bait during the frozen water period - they have to work in open water as well!
2. Vary sizes of plastics. We mostly fished a 4" and 5" fluke or minnow style plastic last summer. This year we have 2.5" all the way up to 7" baits to try.
3. Try a variety of metal/hard baits. We only used spoons and we had success with those, but this season we are planning on trying jigging rapalas, rippin raps, and blade baits out in that deep water for the mighty Mackinaw. Rapala has the flat rap that is small and yet extremely heavy (over an ounce).
4. Try different colors/types of jig head. My jig head designer (oldfartlure.com) has designed a new lower profile jig head that I'm itchin to try on these fish. We just used a 1 oz white ball head jig last season. This year we are going to try a couple different profiles and colors.
5. Add a stinger hook/tip with bait. We had quite of few bumps and taps last year that we missed. We don't know if these were just Jacks or big baitfish or what. But the hope this year is to hook up with many more of those fish!
6. Look for more structure that holds these fish. Our Garmin's (GPSMAP® 7610xsv) were huge in finding structure and fish last summer. The U.S. LakeVü HD Ultra mapping software that they make puts an incredible tool at your fingertips, helping you dial in on spots you never knew existed before.
If you have Lake Trout jigging suggestions, I would love to hear them! Email me at nofishleftbehind@gmail.com.
If you want to get in on this action with us, consider jumping in with a guide trip! We are booking stuff right now for the summer. You can connect with us by calling or texting us at 517-488-3224!